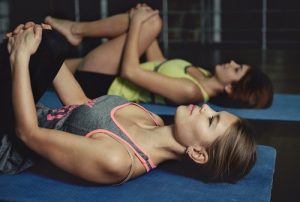 Exercise is important in keeping the mind/body healthy for many reasons. Individuals, with Rosacea, however, must be careful not to cause permanent inflammation of the skin. Inflammation from this condition may be linked to Basal Cell Carcinoma.
Basal Cell Carcinoma is the most common type of skin cancer according to the American Cancer Society. This type of cancer forms from growths or lesions in the deepest layer of the skin.
Rosacea is usually a skin disorder of the face with flare-ups and remissions found in 14 million people in the United States. There are many combinations of the disorder so each person should be diagnosed by a physician. Currently, there is no cure for Rosacea and nobody knows what triggers the start of the condition. Individuals will begin to notice red coloring on the forehead, cheeks and chin that may come and go. As time goes on, the redness becomes more permanent and pimples may develop. Rosacea is typically seen in individuals over the age of 30.
There are some symptoms of Rosacea to look out for such as: eye irritation, burning or stinging sensations of the face, dry skin where the Rosacea is present, plaques or raised skin and skin thickening.
Rosacea has many triggers that can cause flare ups which will result in some or all of the symptoms above. It is important to see your doctor and also keep a journal to help you notice what triggers your flare – ups. Some triggers are sunlight, foods that are spicy or heated, hot rooms, stress, elevating your body temperature (exercise), emotions ( laughing, and crying), blushing, medications, certain fruits and vegetables, dairy, hot weather, cold weather and lack of sleep.
Since being diagnosed with Rosacea, I feel it is important to speak out to other individuals to help them cope. It is important to be able to live a healthy balanced life after diagnosis. Your doctor will prescribe a treatment plan to help your skin go into remission. Then you will have a treatment to follow for the rest of your life. It is important to follow your doctors orders since Rosacea is potentially linked to Basal Cell Carcinoma.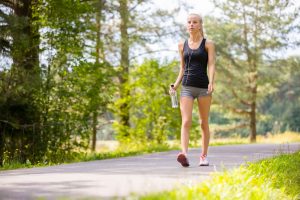 It is important to find your specific Rosacea triggers and limit them as best you can. Individuals with Rosacea can still enjoy exercise but may have to lower the intensity. A circuit of cardiovascular exercise and weight training can work depending on the person. Seek the help of a Fitness Professional to help you figure out your limitations on intensity of exercise. Try doing your cardiovascular exercise in two to three 15 minute increments.
If you choose to exercise outside in the summer do so in the morning before it is really hot. Make sure to bring cold water on hot days. Drinking cold water may help to make a flare less intense. Look for running trails or walking paths with shade and wear a sunscreen of SPF 15 or higher daily even in cold weather.
---
Robyn Caruso is the Founder of The Stress Management Institute for Health and Fitness Professionals. She has 15 years of experience in medical based fitness. Contact Robyn by email at: tsmi.caruso@aol.com
References
National Rosacea Society: https://www.rosacea.org/weblog/new-study-links-rosacea-chronic-systemic-diseases
National Rosacea Society: https://www.rosacea.org/patients/materials/triggersgraph.php
National Rosacea Society: https://www.rosacea.org/patients/allaboutrosacea.php
National Rosacea Society: https://www.rosacea.org/rr/2007/summer/tips.php